Recommended Websites & Digital Downloads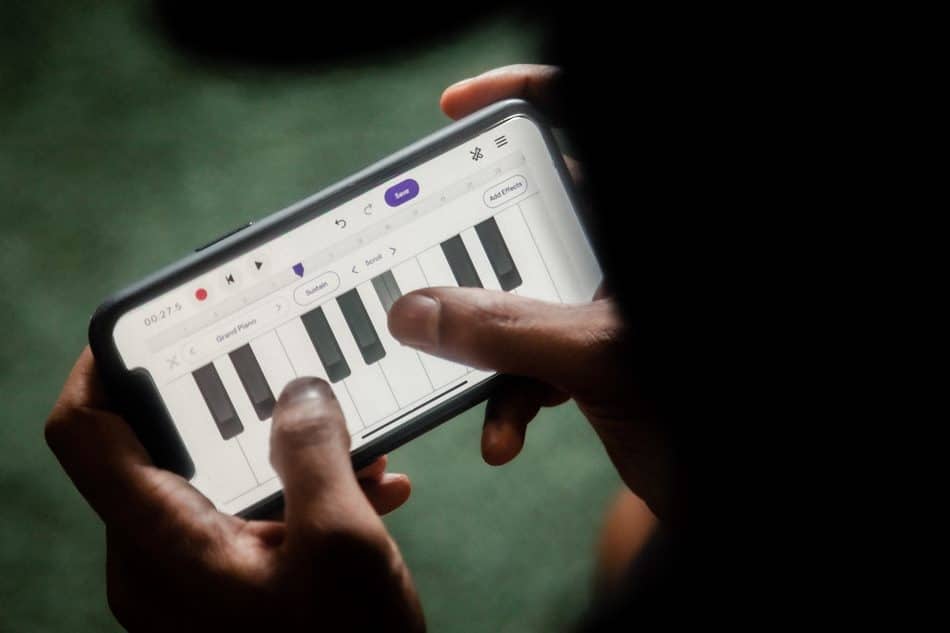 Music these days is all about technology. So why not use it to your advantage! There's a tonne of websites and apps out there that I've found really helpful, and sometimes essential, to my singing.
Below are my top recommendations to get you started. But I'm sure there's more being developed as we speak, so keep your eyes peeled for any new websites or apps that you can find!
Digital resources to consider are:
Sheet music downloads
Learning to sing resources
Music streaming service
Handy phone apps
Sheet Music
I definitely recommend MusicNotes (link to website) if you're looking for sheet music. I play the piano, so I like having sheet music to play along with as I sing. If you're singing solo, it's still good to have the sheet music so that you can follow along to the music, have a copy of the lyrics, and make notes for yourself when you practice.
Music Notes
Link to MusicNotes
This website is amazing. It has a lot of content, and you can filter down to exactly what you need. You can transpose into whatever key suits your voice. You can browse by genre, vocal range (to learn more about vocal range, click here), and type of score. The piano/vocals/guitar ('Solo & Accomp.') scores are typical arrangements for solo vocals. You'll find some songs that you can add to your repertoire.
Learning to Sing
If you're looking for a singing lessons online, I recommend 30 Day Singer. Singing lessons are great because you get one-on-one coaching with a singing teacher, but they can also be expensive. If you're not ready to commit to lessons in-person, there are so many possibilities online to work on your voice.
30 Day Singer
Link to 30 Day Singer
This is a great tool for online singing lessons. If you are shy, you can choose to watch the pre-recorded videos. If you are feeling more confident, you will have access to one-on-one online lessons with a professional.
The 30 day course is a day-by-day beginner course, but there are many other courses you can work through, for both beginners and more experienced singers. Signing up will give you full access to all of these.
The best thing is that they have a 14-day free trial. Unfortunately, this does not give you 14 days of unlimited access, but you have 14 days to work through a course of free preview lessons to see if you like the online platform.
When comparing the price of one-on-one singing lessons, the monthly fee is very reasonable. Especially if you are using it regularly. Even if you watch a few videos a month, you've already used your money's worth compared to sourcing a local singing teacher.
That being said, I do recommend finding a local singing teacher when you're in a position to do so. One-on-one lessons can be tailored to what your voice needs. You can still get this online, but in my experience, online lessons can lag and the sound tends to cut out when both of you talk. A local teacher might also provide you with opportunities to perform.
If you need help with finding the right singing teacher, click here.
Music
I don't think I know any musician who doesn't listen to music. Whether for inspiration or for practice, having a wide range of music available at my fingertips allows me to be prepared for anything. So here's some great options below for streaming music.
Keep in mind that all of these have a trial period for their premium service, so you can try them all out for free!
Amazon Music
Link to Amazon Music
This is a monthly subscription. But if you don't mind ads, you can listen for free with your amazon account. This will limit how many songs you have access to, and in my experience, the song you're after is never on the free service! There is a 30-day free trial of their music unlimited service, so you may as well get one month's worth of free music.
The monthly plans are for individuals, families (any 6 people in the same country), one or multiple devices and students. To me, Amazon is a bit less restrictive than some of the other streaming services. It also runs through the lyrics as the song plays. A small feature, but I like it!
Get 6 months of free music!
6 Months Free Music
Most streaming services, have a free trial period for their premium service. If you sign up for all the major streaming services, one at a time, you can get a total 6 months of free music! Just remember to cancel each plan as you go, otherwise they will all start charging you automatically.
Apple Music
Apple have a surprising 3-month free trial of their music. This is probably because they don't have a free version available like the other streaming services. If you do the 3-month trial, just make sure to cancel at the end because it's easy to forget after that long. Apple music has a great variety of music as well, and is not just limited to iPhones.
Spotify
Spotify have a 1-month free trial of their premium service and have monthly plans for individuals, couples, families and students. The multi-plans will ask for your address as they are supposed to be shared with others under the same roof. The free service has some ads but your music is very limited if you're looking for something specific. Not too bad for general background music though.
YouTube Music
Another 1-month free trial of music. The monthly plans are offered as individual, family or student plans. This streaming service is not as user friendly as some of the other services, so I would get the free trial and then cancel the subscription.
Once you've had a taste of each streaming service, you can choose which one works best for you. They're generally similar prices to movie streaming services. I personally prefer Amazon Music and most people already have an Amazon account, but there's no harm in trying them all to get the free trials.
Backing Tracks
If you don't play an instrument such as piano or guitar that can back your vocals, you can use backing tracks instead. The simplest method is to find karaoke versions of the song you're looking for. I recommend Karafun.
Karafun
Link to Karafun
This is a subscription service to access backing tracks that you can alter to suit your needs. You can change both the key and the tempo, and make the songs available offline. This is great for a gig because you can make up your playlist on a laptop or phone, plug it into a speaker with your mic and away you go.
They have a cheaper 2-day pass, but if you're just wanting to try it out, I would recommend subscribing. This only costs a few dollars more and you will have a month to try it before it will take out another payment.
Extra Apps for Your Phone
The Piano Keyboard by Yokee Music
Link to Piano Keyboard App
Having a basic piano app is great when you're doing some warm-ups backstage or if you're practicing and need to pitch a particular note. This app is free, so definitely worth downloading for those times when you need to hear that note.
Singing Vocal Warm-ups – Singer's Friend by Robert Lumpkins
Link to Singer's Friend App
This is a warm-up app recommended by one of my singing teachers. It only costs a few dollars and will run you through warm-up scales suited to your vocal range. You can also adjust the speed of the warm-ups and choose from a variety of scales to run through. Once it's all set, it will start the warm-ups in the lower limits of your range and work up.